When we age our ability to absorb oxygen from the atmosphere decreases and our ability to produce the body's natural moisture factors decreases, the result of this is a breakdown in the regeneration process. In a teenager it takes around twenty days for cells to travel from the fatty tissue area where they are formed to pass through the dermal layers and become keratin (outer layer of the skin). As we age that process can take up to seventy days.
An O2 Intraceuticals Rejuvenation Infusion is a unique experience providing instant results you can see and feel. A specialised cocktail of hydrating ingredients are gently infused into your skin with hyperbaric oxygen. In just one 30 minute treatment your skin will feel and look younger. Your face will feel smooth and clarified, nourished and hydrated. The appearance of fine lines and blemishes is visibly reduced, skin looks rejuvenated, radiant and fresh.
O2 Intraceuticals uses only natural hyper-allergenic products to neutralise harmful free radicals and infuse the healing properties of the unique formulations. Complex antioxidants and vitamins are delivered to the skin allowing increased cell renewal and skin regeneration. A Rejuvenation Infusion is gentle, relaxing and soothing and is suitable for all skin types. It is the perfect partner for many other treatments and may enhance benefits of other therapies such as Microdermabrasion or a chemical peel. Perfect to plump your skin and give you a hydrated glow before any event.
Application Of Hyperbaric Oxygen
The application of oxygen under hyperbaric pressure allows the epidermis to maximise its oxygen surface level concentration. This pressure also assists in the rapid absorption of the O2 Intaceuticals serums.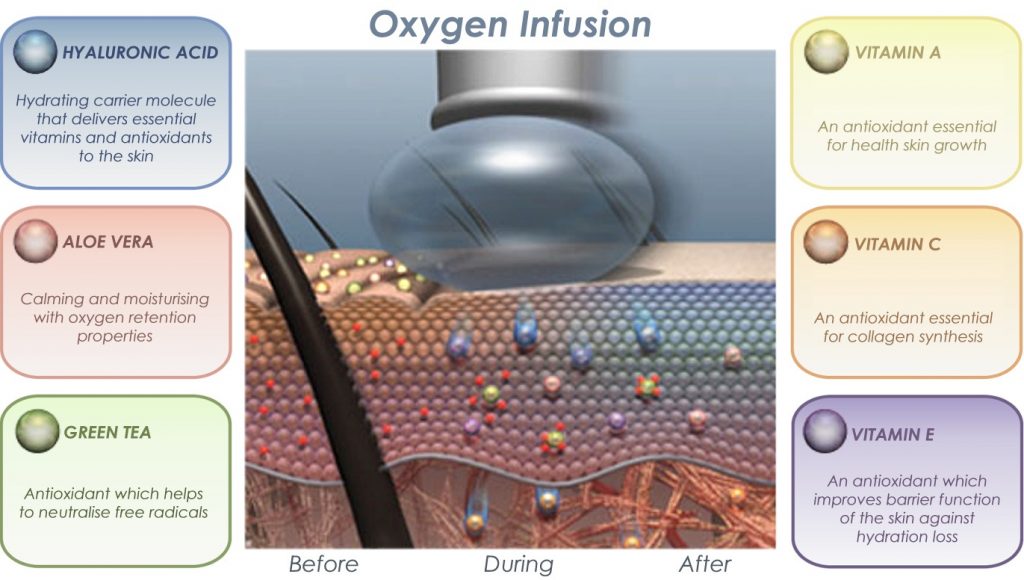 O2 Intraceuticals Rejuvenation Serum has a base of Hyaluronic Acid – an ingredient found naturally in the skin and renown for its superior benefits as an ingredient carrier. Powerful antioxidants including Vitamins A, C and E and Green Tea neutralise free radicals and high concentrations of super moisturisers to ensure perfect hydration and suppleness. The Rejuvenation Serum stimulates regeneration of new cells and the production of collagen and elastin and plumps the skin surface to visibly reduce the appearance of fine lines and wrinkles.
Used in conjunction with the Rejuvenation Serum, O2 Intraceuticals Atoxelene Serum is an alternative to anti-wrinkle injections. Atoxelene assists in the prevention of and visibly reduces the appearance of expression lines such as frown lines, furrows, crows feet and smile lines. It provides a topical alternative to anti-wrinkle injections without needles or pain.
*  Instant visible results
*  Reduction in depth and appearance of fine lines and wrinkles caused by contraction of facial muscles
*  Increased hydration
*  Plumps, firms and tightens the skin
*  Reduces erythema (redness of the skin)
*  Stimulates collagen and elastin production
*  Initiates osmotic hydration
*  Carries antioxidants to the skin
*  Scavenges free radicals to reduce cell degeneration and attack
*  Lubricates collagen and elastin fibres
*  Enhances the elasticity of the skin
*  Antioxidant properties
May Be Applied To The Following Skin Conditions
*  Acne
*  Sun damage
*  Scar tissue
*  Rosacea
*  Cuperose
*  Dermatitis
*  Eczema
*  Psoriasis
May Be Used In Conjunction With
*  Laser
*  Skin Peels
*  Microdermabrasion
*  Cosmetic Injections (Dermal Fillers)