Laser and IPL provide fast, comfortable, permanent hair removal and reduction. They are a non-invasive solution to unwanted body and facial hair, there is no down time and you can be hair free throughout treatments. We have been leaders in hair removal for over 30 years and understand the complex balance between the hair growth cycle, hormones and light therapies, such as Laser and IPL, in order to treat and remove hair successfully.
Faster, Safer & Non-Invasive
Thanks to their advanced technology, Laser and IPL works several times faster than other light based hair removal systems and offer a gentle, non-invasive solution to unwanted body and facial hair. Laser and IPL have a large spot size, which gives a greater depth of penetration of the light rays, so they can treat deep terminal hairs. It also means that it is much faster to work with; making small areas such as underarms, upper lip and bikini lines a five minute treatment! Larger areas such as women's legs or men's backs can be treated in as little as 30 minutes.
Painless, More Comfortable Hair Removal
Waxing treatments, which essentially rip the hair from the follicle, can be quite painful, however; Laser and IPL are found to be significantly more comfortable. In addition, since the pulses of light penetrate the skin, you do not need to let your hair grow out before you can be treated. With Laser and IPL, you can remain virtually hair free all the time!
Light Systems work by emitting intense lamplight into the hair-filled follicles lying below the surface of the skin. The light is absorbed by the pigment in the follicles and converted to heat. It is for this reason that Laser and IPL treatments work best on dark hair and fair skin. The heat then loosens the hair and disables the follicular cells responsible for growing new hair, all without damaging the surrounding skin. The papilla is what provides nutrients to the hair and keeps it re-developing. It is therefore very important to begin treatment when the hair is in its correct phase and is still attached to the papilla so the light can reach straight down to the papilla and destroy it.
HAIR GROWS IN THREE PHASES:
ANAGEN (Growing Phase): The bulb of the hair is developing and growing towards the surface of the skin.
CATAGEN (Transitional Phase): The bulb of the hair is pulling away from the hair follicle (papilla).
TELOGEN (Resting Phase): The hair has completely detached from the papilla and remains inactive until it sheds.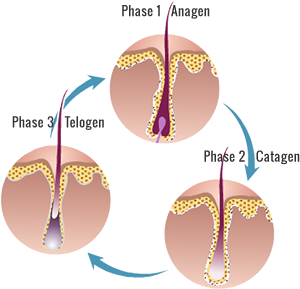 During Catagen and Telogen phases, the hair is not connected to the papilla and therefore the light does not have a direct path to the papilla and treatment is not successful. During treatments, hair continues to go through its phases. It takes approximately 3-4 weeks for facial hair and 4-6 weeks for body hair to complete its cycle. If you are not on time and leave too long between treatments the hair will slip into Telogen phase and remain inactive until pushed into Anagen phase which can take months. This is when your therapist would recommend waxing to kick start your cycle again. So, for the best results possible, please listen to your therapist and be on time with you appointments so we can remove your hair successfully. Hair regrowth between treatments, until successfully destroyed, will be thinner and lighter in colour. Significant hair reduction can be seen in just a few treatments.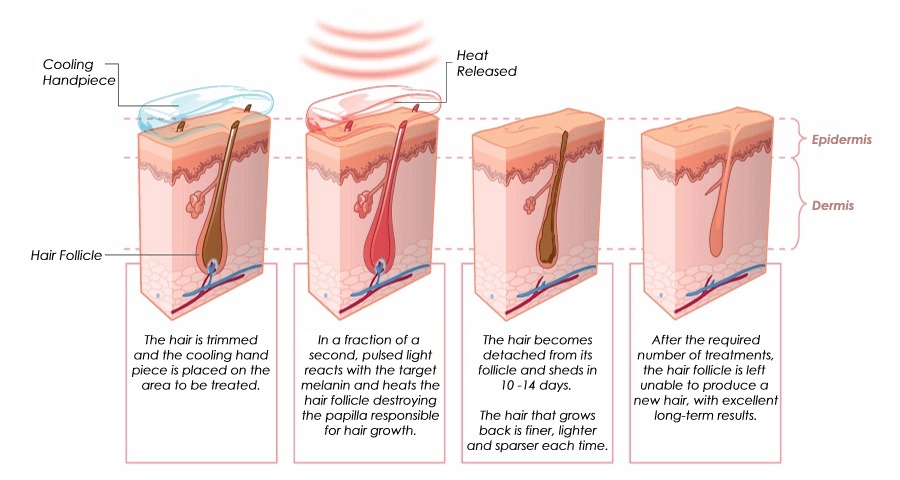 CAUTION: Unfortunately, some overseas manufacturers have seen the lucrative potential to distribute cheaper Laser and IPL systems in the industry. These Laser and IPL systems are produced with inferior quality materials and limited capability resulting in cheaper prices, yet achieving less desirable outcomes. Also be weary of unqualified personnel as not only your hair removal results will be compromised, but also your safety. This can lead to hair growth being stimulated, leaving you with more hair than you originally had.
| | | |
| --- | --- | --- |
| Upper Lip | $35.00 | |
| Chin / Sides / Cheeks | $39.00 | $39.00 |
| Full Face | $69.00 | $69.00 |
| Underarms | $49.00 | $49.00 |
| Breasts / Nipples | $49.00 | $49.00 |
| Snail Trail | $49.00 | $49.00 |
| Bikini Line | $59.00 | |
| Extended Bikini - Includes Anus | $79.00 | |
| XXX Brazilian - Includes Anus | $99.00 | $119.00 |
| Buttocks - Includes Anus | $99.00 | $119.00 |
| Anus | $49.00 | $49.00 |
| 1/2 Leg - Includes Knees, Feet & Toes | $139.00 | $159.00 |
| 1/2 Top Leg | $159.00 | $179.00 |
| Full Leg - Includes Feet & Toes | $219.00 | $239.00 |
| 1/2 Arms | $109.00 | $129.00 |
| Full Arms | $149.00 | $169.00 |
| Chest / Back | | $129.00 |
| Shoulders / Stomach | | $89.00 |
| Chest & Stomach | | $179.00 |
| Back & Shoulders | | $199.00 |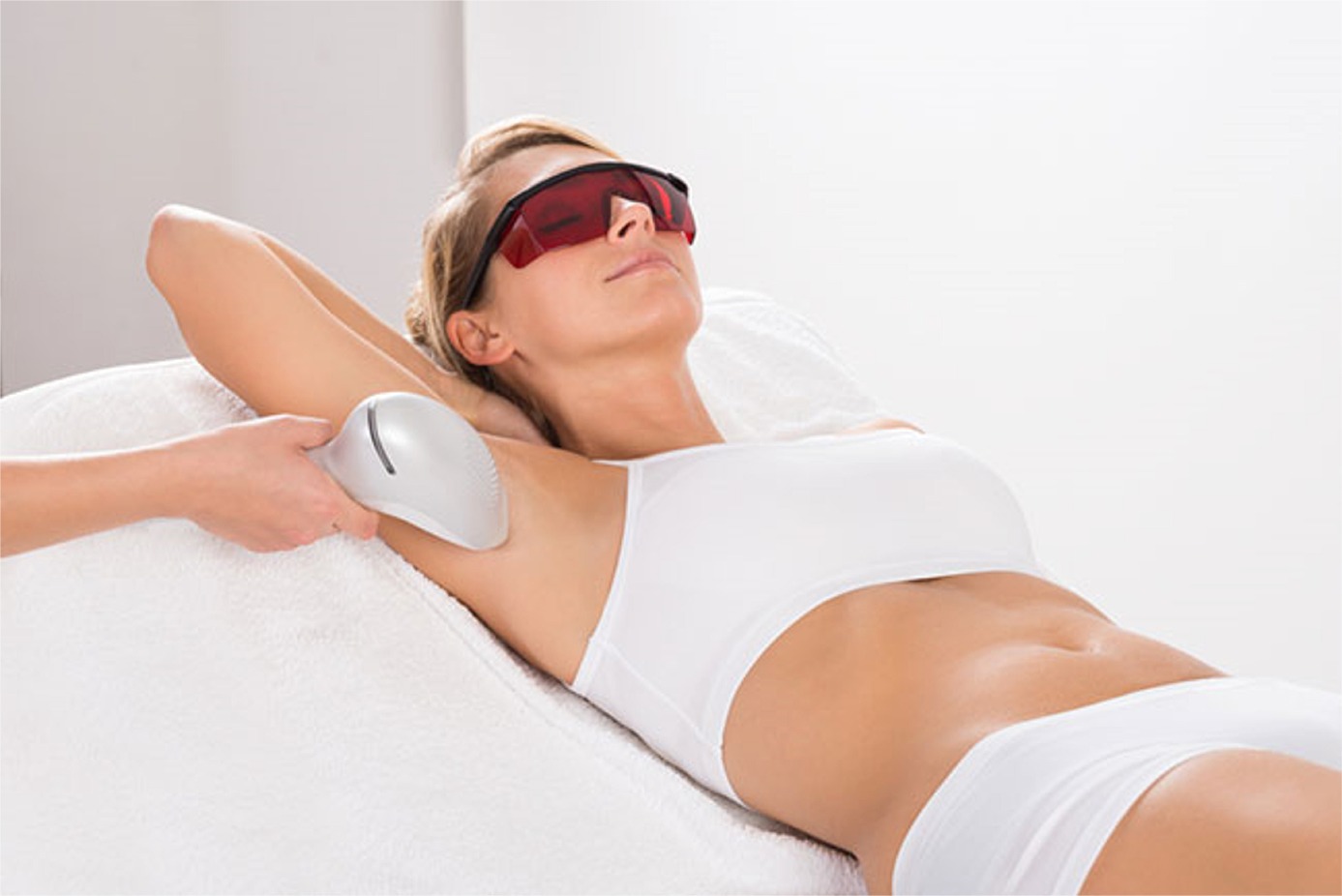 ONE MONTH AFTER 4 TREATMENTS

ONE MONTH AFTER 6 TREATMENTS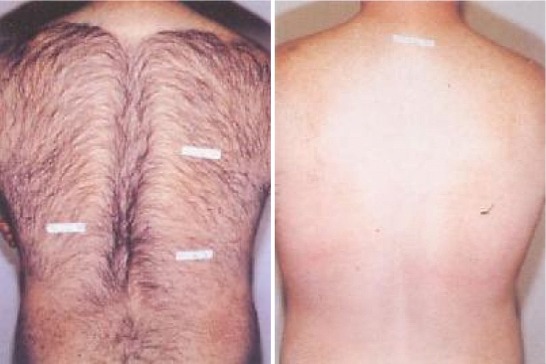 SIX MONTHS AFTER 7 TREATMENTS
Frequently Asked Questions
WHAT BODY AREAS CAN I HAVE TREATED?
The only area we cannot treat is around the eyes. Any other area of the body can be treated… fast! Permanent hair removal around the eye, such as eyebrows, should be treated with Electrolysis.
WHAT SHOULD I DO BEFORE TREATMENT?
Before treatment you need to stop plucking or waxing for several weeks to ensure that the follicles are hair-filled for optimum effect. Also do not sunbathe or use tanning sprays and lotions to enhance your skin colour; your skin needs to be treated at its natural colour. A thorough consultation will be performed for all clients.
WHAT ARE THE TREATMENT SESSIONS LIKE?
Quick and Easy! After initial preparation, the therapist will move the hand piece over your skin. The hand piece emits the light that disables the hair follicles. Most people perceive the light as a gentle 'flicking' sensation.
WHAT SHOULD I EXPECT AFTER THE TREATMENT?
Most people experience some mild redness and tenderness in the treated area shortly after the treatment. This does not interfere with normal activities and usually subsides within a few hours. In some cases, the redness may last longer; but will be mild and temporary.
ARE THERE ANY POSSIBLE SIDE EFFECTS?
You may experience some short-term effects; these may include slight reddening of skin or local swelling or welting, which lasts only a few hours. On rare occasions some blistering may occur; but typically resolves quickly. Also, skin can become darker or lighter following the treatment, but will generally return to normal within a few weeks. Limiting sun exposure before and after treatments will minimise the risk of complications.
DO I NEED TO DO ANYTHING AFTER THE TREATMENT?
You can return to work the same day and resume all regular activities. Only shave the area if needed between treatments. Do not wax, pluck or use any depilatory creams. You should limit sun exposure and use a sun screen, which is always good practice
HOW MANY TREATMENTS WILL I NEED?
Laser and IPL technology have been proven to create a permanent reduction in the number of regrowing hairs following each treatment in most skin types; however, there are many factors that will determine how many treatments you will need. For example: Your hair colour, texture and density, your skin colour and the area to be treated. We would say approximately 4 to 6 treatments as an average, but a customised program will be designed for you, along with an estimate of how many treatments you may need in order to meet your expectations. Any hair with pigment (black to light brown) can be treated.
WHAT IS THE DIFFERENCE BETWEEN LASER & IPL?
Laser and IPL are very similar and remove hair in basically the same way.