Skin Needling or Collagen Induction Therapy (CIT) is a treatment that stimulates your skin's own production of precious growth factors, collagen and elastin for naturally rejuvenated, revitalised and regenerated skin. The treatment process involves a medically engineered device that utilises 12 sterile, surgical grade micro needles to deliver effective skin needling. Many refer to Skin Needling as the equivalent to fractional laser but without the lengthy downtime.
Healthy collagen & elastin levels are what give us healthy, youthful skin. Visibly reducing unwanted wrinkles, lifting and tightening facial skin, filling and smoothing acne scars, stretch marks, trauma induced scars as well as improving skin texture, pigmentation and tone.
Studies into Skin Needling have discovered that controlled micro damage to the skin via tiny punctures at certain depths, unleashes the natural and powerful healing properties of the skin via its own wound healing response. This results in the production of new collagen, elastin and blood vessels which gives us skin that not only looks more youthful but is clearer, smoother and more evenly textured.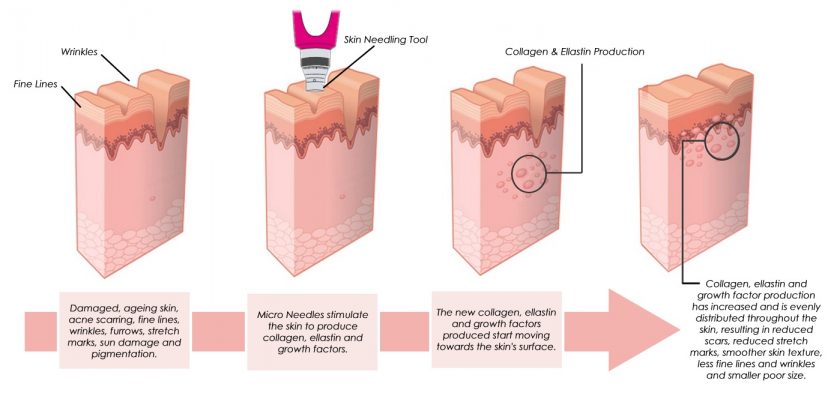 *  Wrinkles & Fine Lines  (Anti-Ageing)
*  Skin Sagging
*  Acne
*  Dilated (large) Pores
*  Acne Scarring
*  Injury Related Scarring
*  Blackheads & Congestion
*  Dark Circles
*  Melasma (Facial Pigmentation)
*  Sun Damage
*  Rosacea
*  Vascular Redness & Dilated Capillaries
*  Stretch Marks
*  Hair Loss & Hair Thinning
*  Treats a wide range of skin issues.
*  Fast and cost effective alternative to laser resurfacing.
*  It is less painful and incurs less downtime compared to traditional skin needling and some lasers.
*  Single use, sterile, disposable needles used, so there is no risk of cross contamination.
*  Effectively treats hard-to-reach areas around the eyes and nose.
*  It is gentle enough that it can be used for all skin types and colours.
Frequently Asked Questions
HOW DOES THIS COMPARE TO OTHER METHODS OF SKIN REJUVENATION?
We use the world-renowned Dermapen system. This procedure is non-thermal and non-ablative, which means that unlike other treatments such as lasers or chemical peels, Skin Needling can be performed on all skin types and tones reducing any risk of post-inflammatory hyperpigmentation or fibrotic scar tissue forming. There are a number of devices that are available for skin needing but the Dermapen® is the clear favourite amongst plastic surgeons and dermal clinicians worldwide. It's a high powered, pen-like device, comprising of 12 fine, sterile, disposable needles that can be tailored for each individual treatment, allowing us to treat sensitive areas such as around the eyes, nose and all areas of the body.
DOES IT HURT?
Although Skin Needling does not feel as bad as it sounds, before the procedure starts a topical anaesthetic can be applied to your skin to ensure a comfortable, pain free experience. The Dermapen patented oscillating system delivers fast, fractional and virtually painless vertical channels into the skin, minimising damage, downtime and discomfort. Depending on the depth of needle penetration, it is possible to experience pin-point bleeding during the treatment, but this is normal and will subside before you leave the clinic.
HOW SOON WILL I SEE RESULTS?
This depends on whether we are treating anti-ageing, acne, pigmentation or scarring, however visible results of skin rejuvenation are generally seen after just 6-8 weeks following one procedure. A course of Dermapen sessions is usually recommended to achieve optimum results and the regenerating process will continue for up to 24 months post-treatment, meaning your skin will only continue to improve.
WHAT IS THE DOWNTIME?
Localised erythema (redness) may last up to 2 days post treatment. Most patients describe the effects of the treatment as having a mild sunburnt look. In-clinic specialised camouflage can be applied immediately post procedure to minimise redness and normal make-up may be applied 24 hours post procedure. Most patients can resume normal activities immediately after treatment but must avoid exercise and sun exposure for 24 to 48 hours.
HOW MANY TREATMENTS WILL I NEED?
*  For anti-ageing treatments, wrinkles, sun damage, rosacea, acne and hypo/hyper-pigmentation: 4-6 treatments, 6-8 weeks apart.
*  For scarring and dilated pores: 6-8 treatments, 6-8 weeks apart.
*  For Stretchmarks: 8-10 treatments, 4-6 weeks apart.
*  Results and treatment plans vary for each individual.