The Y-Lite provides proven photo-rejuvenation of ageing and sun damaged skin eliminating 80% of sunspots, rosacea, telangiectases (dilated capillaries), lentiges, skin tags, dischromia and other imperfections in the 1st treatment, guaranteed. We can treat your face, neck chest, back, hands, arms and legs with immediate results.
Using Copper Bromide technology, the Y-Lite enhances the skin by improving the appearance of fine lines and wrinkles through the production of new collagen in dermal tissue and slowing down the ageing process. In one in-vivo study, pro-collagen production rates increased by 143%. The yellow light produced targets only the blemish to be treated, without damaging surrounding tissue like other lasers and IPLs , which would cause your skin to have a waxed, sallow appearance in the future.
Fine Lines
Wrinkles
Collagen Production
Age Spots (Lentigo)
Sun Damage
Sun Spots (Solar Lentigo)
Freckles
Hyper-pigmentation
Seborrheic Keratosis
Melasma (Pigmentation around the eyes and mouth)
Poikiloderma (Mottled pigmentation, telangiectasia and atrophy, usually found on the neck)
Facial Redness
Acne Papules and Pustules
Warts
Spider Veins
Broken Capillaries
Cherry Angiomas
Birthmarks
Port Wine Stains
Stork Bite (Salmon Patch)
Acute Acne
Chronic Acne
Papules
Pustules

Photo ageing or sun damage results in fine lines and wrinkles, discolouration and textural changes. The epidermis becomes thinner so the skin easily blisters, tears and grazes. The skin feels dry because it is less able to hold onto water. Yellow thickened bumps (elastosis or heliosis) are due to tangled masses of damaged elastin protein in the dermis. There is also increased dermal collagen due to scarring from repeated inflammation (sunburn, acne and other skin diseases). The thick dermis loses elasticity and is weaker than normal. Over activity of tanning cells (melanocytes) results in blotchy pigmentation with brown freckles, solar lentiges and white marks (idiopathic guttate hypomelanosis). There may also be dilated small blood vessels (telangiectases), cherry red spots (angiomas) and bruises (purpura). The hair follicles may plug up with dead skin and broken-down cellular proteins, resulting in blackheads & whiteheads (solar comedones) and shiny brown gel-filled bumps (colloid milia). Ageing skin is also very prone to the development of harmless brown warty lesions (seborrhoeic keratoses).
The appearance of lines and wrinkles can be improved through the stimulated production of new collagen in dermal tissue. Skin Rejuvenation can be achieved in a single lunch break, with very minimal side effects and makeup can be worn straight away.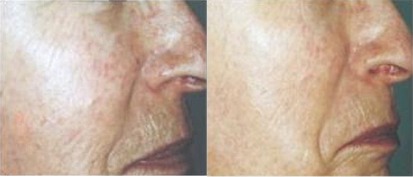 WRINKLE REDUCTION – AFTER 1 TREATMENT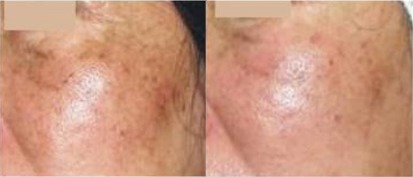 SKIN REJUVENATION – AFTER 1 TREATMENT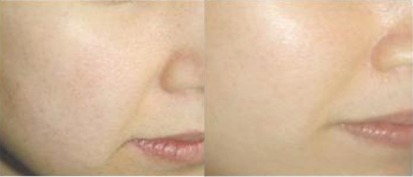 SKIN REJUVENATION – AFTER 1 TREATMENT
Dischromia & Photo Ageing
Ageing is accelerated in those areas exposed to sunlight (Ultra Violet Radiation), a process known as photo ageing. The signs of photo ageing and skin damage are typically most visible on a person's face, neck and hands. Y-Lite can non-invasively treat skin damage, such as benign brown pigment, age spots (lentigo), large or small sun induced freckles (solar lentigo), mottled pigmentation and poikiloderma (mottled pigmentation, dilated capillaries and atrophy usually found on the neck and decolletage). Over activity of tanning cells (melanocytes) results in blotchy pigmentation with brown freckles, solar lentiges and white marks (idiopathic guttate hypomelanosis).
Variations in skin colour can be improved with the Y-Lite. This is achieved by reducing the number of melanin producing cells (melanocytes) in the skin to produce a more uniform colour and texture.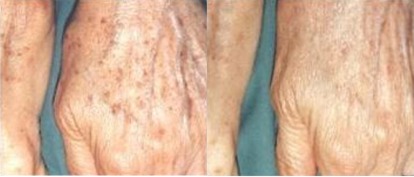 SOLAR LENTIGES – AFTER 1 TREATMENT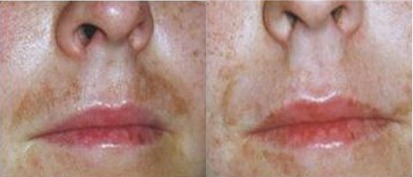 MELASMA – AFTER 2 TREATMENTS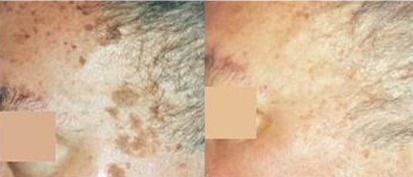 SEBORRHEIC KERATOSES – AFTER 1 TREATMENT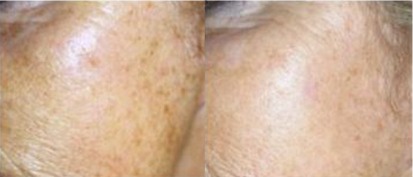 DISCHROMIA – AFTER 1 TREATMENT
Solid lesions are able to be permanently and effectively removed with minimal damage to the surrounding tissue. The most common solid lesions treated are; brown sun spots (Seborrheic Keratoses), Naevi (Birthmarks), pigmented skin tags and benign papules.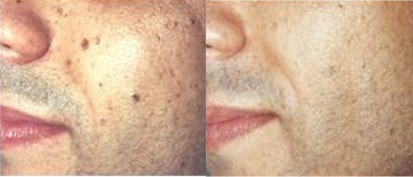 BENIGN NAEVI (MOLES) FLAT & RAISED – AFTER 2 TREATMENTS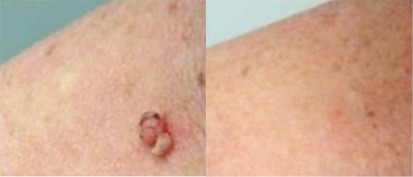 ACROCHORDON (SKIN TAG) – AFTER 1 TREATMENT
TELANGIECTASES or Vascular lesions occur when there is a concentration or enlargement of fine blood vessels. Telangiectases are small dilated capillaries commonly called broken capillaries, thread veins, cherry angiomas (blood spots), spider naevi and spider veins (a small cluster that resembles a spider or star) which are usually dull or bright red. Whatever physical form the telangiectases take, they are by definition, dilated blood vessels.There are many causes of Telangiectasia, hereditary plays a significant role in the development of these lesions. Hereditary Telangiectasia is a congenial weakness in the blood vessel walls. Telangiectasia may be present at birth while some other common causes are ageing, sun exposure, skin injury such as an abrasion, medical conditions such as high blood pressure and also temperature extremes of both hot and cold.
BIRTHMARKS are sometimes referred to as flat haemangiomas. However, these are not haemangiomas but are malformed dilated blood vessels in the skin known as birthmarks. These lesions are non-cancerous and appear as blotches of red, brown or purple skin discolouration on any part of the body. They are always present at birth, although they may become more obvious with time. They may vary in size from a small dot to occasionally involving a whole limb and they grow in proportion to the child's general growth. Vascular birth marks (port wine stains) and hypo-pigmented birthmarks (dark brown stains) can be treated very successfully with Y~Lite, safely destroying unsightly vessels so they slowly fade and disappear. Blemishes sometimes clear after 1 or 2 treatments depending on the severity and density of the birthmark.
ROSACEA is a common, chronic inflammatory disorder, usually affecting the central portion of the face. It is characterised by facial redness, telangiectasia (dilated capillaries) and sometimes lesions that look like acne papules and pustules. It is often difficult to diagnose Rosacea because the lesions can so closely resemble acne. These facial blood vessels are abnormally sensitive to certain stimuli (triggers). Some common triggers are:
*  Alcohol – Beer, Wine & Spirits
*  Sun Exposure
*  Temperature Extremes – Saunas, Heaters & Cool Rooms
*  Spicy Foods – Pepper, Chili or Curry
*  Drinking Hot Beverages – Tea & Coffee
*  Eating Certain Foods – Tomatoes, Oranges, Mushrooms & Shellfish
*  Hormonal Changes – Pregnancy or Menopause
*  Emotional Factors – Stress, Anger, Laughing, Crying or Embarrassment
*  Exercise
To date there is no known cure for Rosacea but the symptoms can be controlled effectively using Y-Lite which destroys unsightly blood vessels so they fade and slowly disappear. It is important to treat Rosacea before permanent skin damage occurs. Some rosacea sufferers are not aware that Y-Lite treatments can help significantly. Untreated Rosacea can cause disfiguration of the nose (known as Rhinophyma) and ears.
The most common vascular blemishes that can be diminished are; dilated veins or capillaries (spider veins), flushed cheeks (rosacea), red spots (cherry angiomas), Port Wine stains and some birthmarks. Many vascular blemishes can be diminished in a single session with immediate results.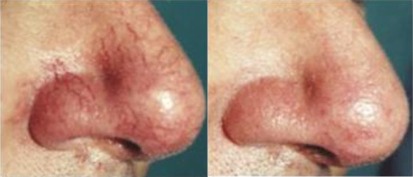 TELANGIECTASIA – AFTER 1 TREATMENT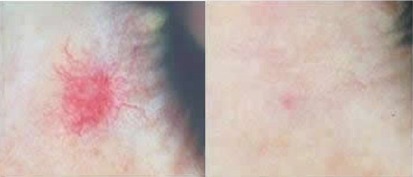 TELANGIECTASIA – AFTER 1 TREATMENT
Light based treatment for active acne has greatly increased in popularity due to the outstanding results achieved and the lack of contraindications. Generally more than one session is required and the results achieved and extend from reasonably long periods to permanently.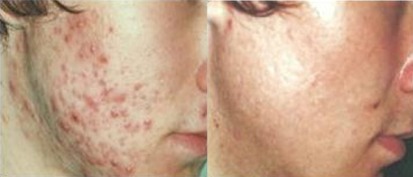 ACTIVE ACNE – AFTER 4 TREATMENTS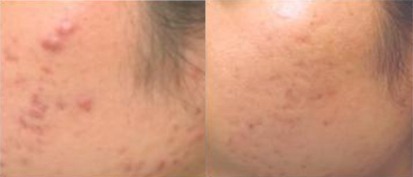 ACTIVE ACNE – AFTER 4 TREATMENTS
Frequently Asked Questions
HOW DOES THE Y-LITE WORK?
The Y-Lite generates a wavelength which targets only the blemish to be treated thus leaving the surrounding skin without damage.
WHO CAN HAVE A Y-LITE TREATMENT?
Almost all skin types can be treated for a wide range of blemishes including vascular blemishes, acne, skin rejuvenation and skin colour uniformity; however darker skin types (Fitzpatrick 4 and above) cannot have Y-Lite treatment, but can have Skin Needling performed instead.
WHERE CAN THE TREATMENT BE PERFORMED?
The Y-Lite is safe to use on nearly all body areas including the face, neck, chest, back, hands, arms and feet.
HOW MANY SESSIONS ARE REQUIRED?
For most vascular blemishes only one session is necessary, however for some skin rejuvenation, stretchmarks and acne, several treatments may be required.
WHAT DOES THE SESSION FEEL LIKE?
The session is well tolerated by most clients without and form of anaesthetic. Most clients describe the feeling similar to that of a rubber band flicking in the skin.
IS THE Y-LITE SAFE?
The treatment is completely safe and will not cause the skin damage unlike IPLs which are broadband and contain wavelengths that may damage other tissues. The Y-Lite is narrowband and targets only the blemish being treated.
WHAT RESULTS CAN BE EXPECTED?
Mostly, the results are immediate. When you walk out of the clinic, you will notice the disappearance of vascular blemishes while some other coloured lesions may take a few weeks to disappear.